Rocky Hill Community Center
761 Old Main St
Rocky Hill, CT 060607
(Best parking is at 33 church st, next to the library)
We are currently seeking members from the following occupations
Caterer, Divorce/Family Law Attorney, Home Inspector, Landscape Architect, Personal Injury Attorney, Personal Trainer, Recruiter, HVAC Graphic Artist, Building and property inspector, Florist, Printer, Electrician, Graphic Designer, Tailor, Dry Cleaner, Dog Walker, Security Alarm System Specialist, cleaning company (home and office), Elder Law Attorney, Electrician.
Ready to Apply for Membership?
Nutmeg Donated to Toys for Tots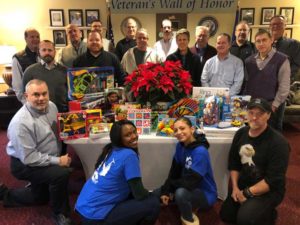 As a part of our annual commitment to our community, Nutmeg Business Networking held a Photo Day at Northpoint Mortgage, utilizing the space donated by Northpoint Mortgage and the talent of Tony Bacewicz of Atlantic Vision Media to offer professional photos to members as well as anyone who would donate to Toys for Tots at a considerable discount. Special thanks to Atlantic Vision Media and Northpoint Mortgage.
Nutmeg Group Donation for Hurricane Relief
In the wake of the four hurricanes that have affected United States citizens in 2017, Nutmeg Members made a decision to offer support. Our first donation was for $500 for Hurricane Harvey, and we received an acknowledgement from the Red Cross for our donation. After that, the membership sent a $500 donation to the Red Cross for Florida residents in the wake of Hurricane Irma and a $1,000 donation to the Red Cross for Puerto Rico residents for Hurricanes Irma and Maria, which have completely devastated the islands.
Nutmeg Group Donation for Ädelbrook
As a part of our community outreach in Rocky Hill, the group donated to Ädelbrook Behavioraa and Developmental Services which meets the needs of children, young adults and families for children with disabilities. We donated $300 this year and received an acknowledgement of our donation.
Nutmeg Group donates to Rocky Hill Food Pantry
The Nutmeg Rocky Hill group is very happy to donate both food items and $500 to the Rocky Hill Food Pantry, as a part of our 15-year ongoing commitment to support our community.
Pictured (rear) VP Greg Godston, Tom Maselek, Esq., Kelsey Lear. (front) Nicole Phillips, Administrative Assistant, Rocky Hill Human Services, Melissa Hicks, Director, Rocky Hill Human Services, Treasurer, Geena Deenos, President, Ric Valliere and Dave Sevigny.